Caritas AW invites you to our new home in Otwock, on the outskirts of Warsaw.
We offer permanent accommodation to those who wish to return to Poland from abroad and those who would like to move from an apartment or house in order to reduce the burden of daily responsibilities and the feeling of being alone.
A move to Otwock would mean:
Living in an air-conditioned room with your own bathroom

Tasty and healthy meals in the in-house restaurant

Help on hand with the cleaning and washing

Full internet connectivity with a TV in every room

Ongoing assistance according to individual needs

Secure, on site parking for vehicles

Green surroundings, mature trees in the buffer zone of the Mazowiecki Landscape Park

Organised time for recreation, fun and sports.

Easy access into the centre of Warsaw, both by train or car, in 1 hour
At all residents disposal:
The use of a lift and complete barrier-free infrastructure for people with disabilities
Kitchenettes 
A library and a meeting room
Viewing terraces and patio
Massage room, exercises and treatments to cater for individual needs
Recreation, meeting and relaxation room
Air conditioning throughout the building
Active recreation in the open air
Individual car transport (on request)
Hairdressing and beauty services (on request)
Competent English-speaking staff
We want our residents to feel as good as possible in our home.
For this reason:
We ensure rooms are fully equipped, but we are also welcome you using your personal furniture and personal belongings to make you feel at home 
We provide a safety deposit room for your valuables
We can help you organize your move, and help with the furnishing and decorating of your room
We offer several double rooms
We have built a new, beautiful and comfortable home. We invite everyone who is ready to live TOGETHER as a small community.
We invite you to join us to create a living home together, based on the principles of mutual kindness, understanding, readiness to help and the ability to overcome all barriers, especially isolation and loneliness. We encourage you to share in hope and joy at every stage of your life.
The team at Dom Pro Seniore will make every effort to honour the memory of our donors Aleksandra and Mieczysław Białkiewicz with dignity.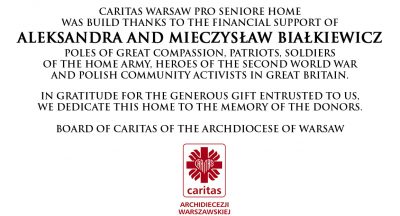 We will send the price and legal conditions for residence upon request.
We accept applications by phone or via e-mail.
We anticipate 40-45 residents in total.